VRV Air Conditioning Systems
VRV AIR CONDITIONING SYSTEMS IN BRISBANE & SYDNEY
VRV Air Conditioning is a more energy-efficient approach to multi-split air conditioning, that could result in saving a lot of energy. The VRV air conditioning range is best suited for commercial vicinities and large homes due to their high levels of energy efficiency, easy maintenance and the possible distance between the indoor and outdoor units. Lawson Air supplies multiple different VRV systems, all of which are supplied by Daikin.
WHAT IS A VRV AIR CONDITIONING SYSTEM?
A VRV system is an air conditioner for commercial buildings and large homes that uses variable refrigerant flow control to circulate the minimum amount of required refrigerant at any given time whilst still allowing individual control or each air conditioning zones. The system's precision and ability to control individual zones help save energy during operation. VRV air conditioning systems are multi-split systems and were first developed by Daikin industries.
OUR RANGE OF VRV/VRF AIR CONDITIONING SYSTEMS
A VRV system may be the perfect system for your building due to its high levels of efficiency and comfort. Check out our range of VRV systems including heat pump units, indoor units and outdoor units. Note that for heat pump units and indoor units, you will need to contact our office due to the need for technical advice surround VRV systems. This measure is to ensure that the correct model is installed for your property.
VRV HEAT PUMP UNITS
VRV heat pumps are heat pumps that utilise Variable Refrigerant Volume (VRV) technology to increase efficiency and control. VRV heat pumps can provide continuous heating due to the model's ability to accumulate energy for defrosting. VRV heat pumps are considered an innovative alternative to more typical heating systems. View our range of VRV Heat Pump Units here.
VRV INDOOR UNITS
VRV indoor units are the units in VRV systems that are located indoors. They are designed with aesthetics in mind and are also relatively easy to install and service. As VRV systems are essentially multi-split systems, there can be many VRV indoor units to one VRV outdoor unit. View our range of VRV Indoor Units here.
VRV OUTDOOR UNITS
VRV outdoor units are the units in VRV systems that are placed outdoors. They are designed to incorporate VRV standards and technologies such as variable refrigerant temperature. The heat pump variants also allow for heating during the defrosting cycle. View our range of VRV Outdoor Units here.
THE BENEFITS OF INSTALLING A VRV AIR CONDITIONING SYSTEM
VRV systems come with a range of benefits including efficiency, comfort and reliability. As mentioned earlier, the system is well suited for commercial vicinities due to the energy efficiency of the systems. The variable refrigerant temperature allows for much higher efficiency levels than more traditional multi-split systems. VRV systems allow for continuous heating, prevent cold draughts and generate low levels of sound. Despite all these benefits, the indoor unit can still be concealed substantially and can be integrated to fit in with the rest of the house's style.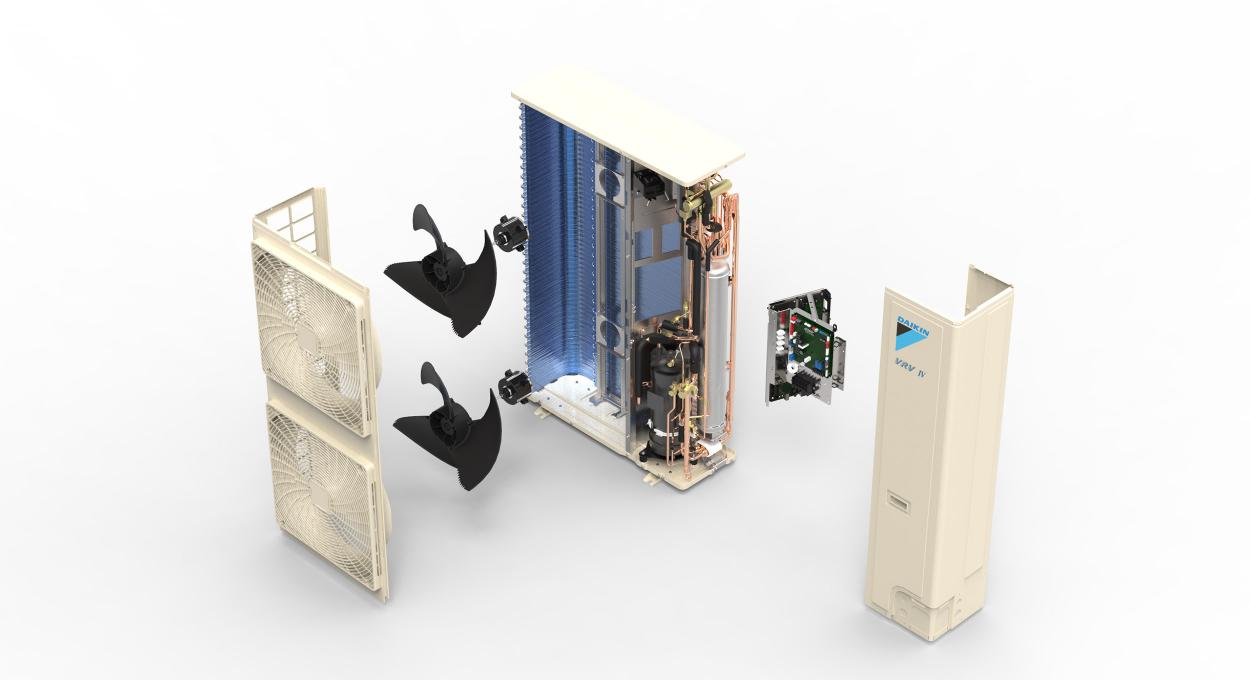 CONTACT LAWSON AIR FOR ALL YOUR VRV AIR CONDITIONING ENQUIRIES
It is important that the correct VRV system is installed for your building and so you can trust us to give technical recommendations on available systems. To enquire into our VRV systems, specifically our indoor units and heat pump units, contact our office. We at Lawson Air will determine which VRV units are suitable for your building and will also supply and install the selected VRV system. Contact us now for VRV system air conditioning enquiries.
CONTACT US NOW Brisbane (07) 3219 1817 sales@lawsonair.com.au | Sydney (02) 9188 6877 sydney@lawsonair.com.au
---