Zero Emissions + Carbon Neutral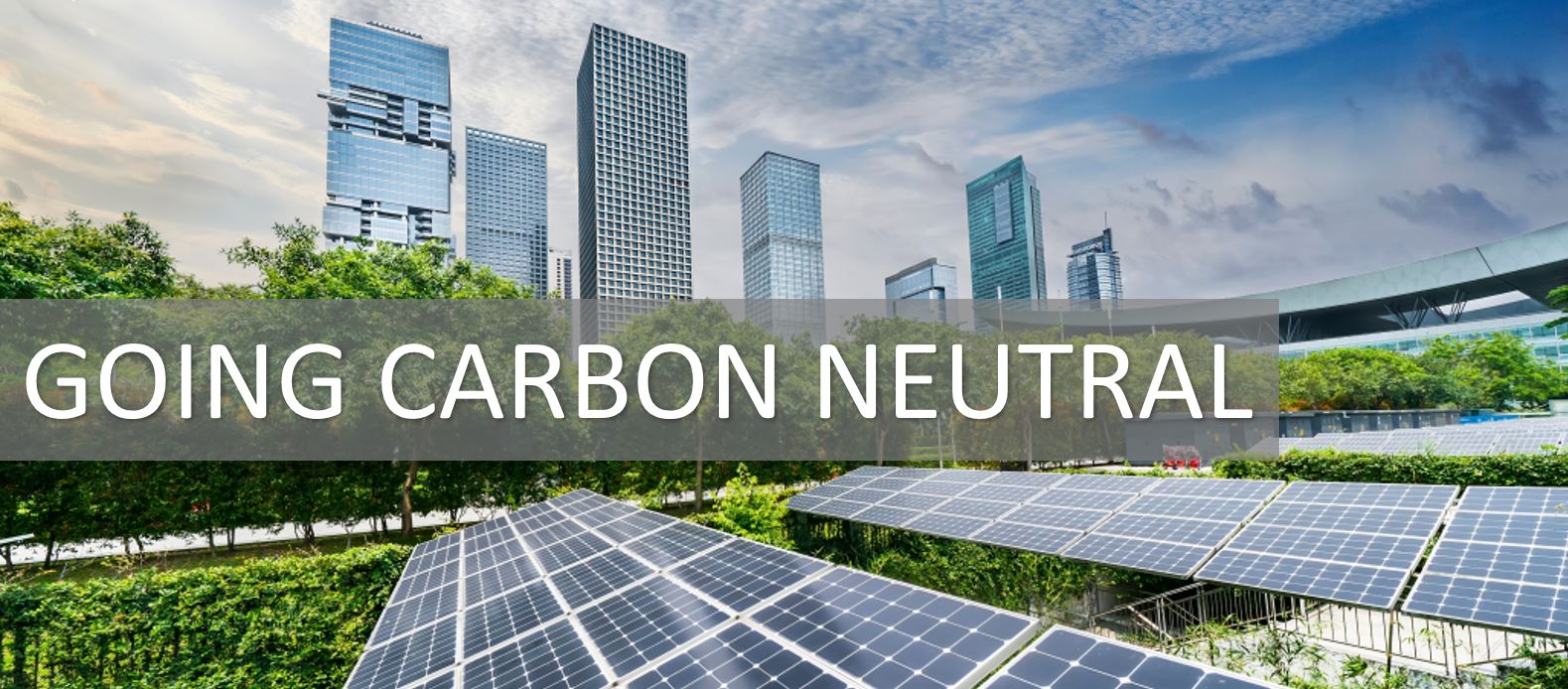 WHAT IS CARBON NEUTRAL?
The global crisis of climate change has been mainly caused by carbon dioxide (CO2) emissions being released into the atmosphere. These high emissions of CO2 are primarily a result of burning fossil fuels such as coal, gas and oil. While the problem has been slowly escalating over the years, there are options to reduce our impact on the environment – like going carbon neutral.
Here is how it works: if you contribute to the polluting due to emissions, you can invest in carbon offsets which effectively compensate the pollutants that you released. Instead of trying to reduce your immediate emissions (which can be difficult, if not impossible), carbon offsets reduce the total amount of greenhouse gases (GHG) on a global scale.
The term 'carbon-neutral' applies to buildings that can generate energy for their operations through renewable energy sources. More specifically, the net amount of energy generated must equal the net amount of energy required by the building to retain a carbon-neutral classification. Other words for carbon-neutral include 'carbon zero', 'zero energy', 'zero-emission' and 'climate neutral'.
CONTACT US NOW Brisbane (07) 3219 1817, Sydney (02) 91 88 68 77 or email our friendly sales team sales@lawsonair.com.au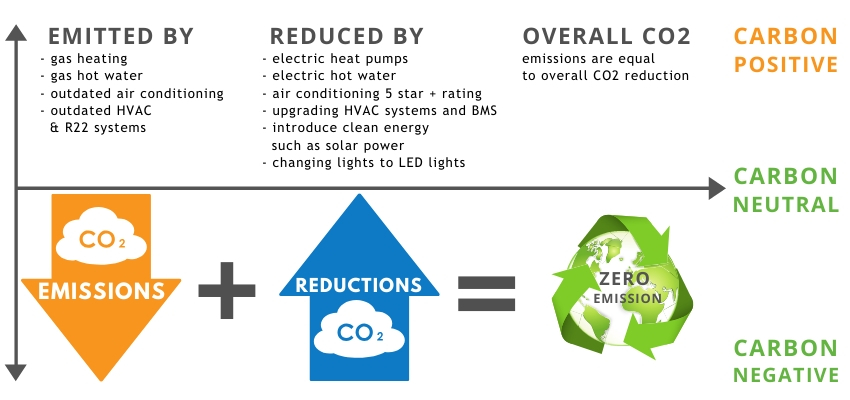 HOW LAWSON AIR CAN HELP YOU TO REDUCE YOUR CARBON FOOTPRINT
CONSULTING, AUDITING AND ASSESSMENT TO LOWER YOUR CARBON FOOTPRINT
Lawson Air has access to professional services such as consultants, estimators and auditors and can help you lower your carbon footprint. After an initial site visit and detailed examination of all the energy and control systems, we develop a model of how energy is used throughout the year and evaluate how it can be improved.
SUPPLYING ENERGY EFFICIENT AIR CONDITIONING EQUIPMENT (5 + STAR RATING)
Lawson Air can supply energy-efficient air conditioning equipment direct to your contractors to maintenance team. We supply air conditioning at wholesale air conditioning prices from leading manufacturers. We currently supply schools, government buildings, body corporates, commercial building owners & mining accommodation businesses around the country.
CHANGING OUT GAS HEATING FOR ELECTRIC AIR CONDITIONING AND HEAT PUMP EQUIPMENT
​Clean electric heating is an ideal solution to climate change and green energy challenges. Heat pumps are more efficient and have a minimal Co2 footprint than that of gas heaters.
UPGRADING OLD HVAC EQUIPMENT AND R22 REFRIGERANT PHASE OUT
Systems that are still using R22 are generally older and more likely to malfunction. The R22 refrigerant is slowly being phased out but the practice of recycling R22 back into current equipment is still occurring. This practice must be avoided as it increases the risk of negative environmental effects due to R22's bigger environmental footprint upon release into the atmosphere. Upgrading to a safer and efficient refrigerant such as R32 will not only save on your power bill but be better for the environment.
UPGRADING BMS, BUILDING AND ASSET EVALUATION
An energy audit is the traditional way to identify and analyze opportunities for saving when it comes to the energy usage of buildings. A building management system (BMS) is a computer-based control system installed in buildings to control and monitor certain electrical equipment within a building. Examples of controllable equipment includes ventilation, power systems, lighting, security systems and fire systems.
BMSs are beneficial in that they allow occupants to stay comfortable and safe, while delivering efficiency from both an energy and a functional standpoint. As long as the BMS is functioning properly, the system allows for optimal building performance and cost-effectiveness.
GETTING YOUR GREEN STAR RATING, NABERS TESTING
Sellers and lessors of office space of at least 1 square kilometre will have to have an up-to-date Building Energy Efficiency Certificate (BEEC) as per the Commercial Building Disclosure (CBD) Program.
A 'National Australian Built Environmental Rating System (NABERS) Energy for offices' rating is included in each BEEC for offices. This way of rating energy efficiency works by comparing buildings against benchmarks made using actual building performance data. The rating measures on a scale of zero to six stars, with six stars indicating a desirable level of GHG emission or water usage.
Solar power systems convert solar energy from the sun into useable energy, allowing money to be saved on power. The installation of solar panels will also combat GHG emissions and decrease our collective need for non-renewable fossil fuels from which electricity is normally sourced.
​

CHANGING LIGHTS TO LED LIGHTS
​LED lighting provides better value for money than incandescent and halogen light bulbs and can be put into most existing fittings. LEDs use around 75% less energy than traditional while managing to last 5 – 10 times longer, making them vastly superior in terms of efficiency. Investing into LED lighting will reduce replacement costs and the number of light bulbs put to waste.
LEDs or Light-Emitting Diodes convert approximately 95% of energy into light with only 5% given off as heat. LEDs also produce a brighter light while simultaneously consuming less power.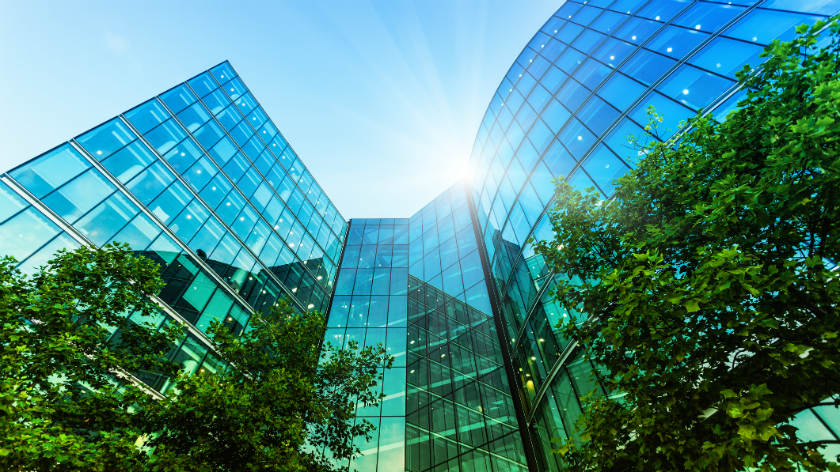 CONTACT US NOW Brisbane (07) 3219 1817, Sydney (02) 91 88 68 77 or email our friendly sales team sales@lawsonair.com.au
EMISSION REDUCTION FUND
The Emissions Reduction Fund (ERF) was established by the Australian Government in 2014 in an attempt to incentivise the reduction of emissions for organisations and individuals. The scheme is entirely voluntary and encourages the adoption of new methods and technologies to reduce your carbon footprint. By 2020, the ERF aims to reduce Australia's emissions 5% lower than 2000's emission levels.
The ERF offers new opportunities for Australian businesses to benefit from going eco-friendly. When reducing their emissions, businesses can earn Australian Carbon Credit Units (ACCUs) which can be sold. One ACCU is earned for each tonne of CO2 stored or avoided due to carbon neutral efforts. In addition to the ERF, businesses can gain other advantages from going carbon neutral such as lower electricity bills, enhanced business image and improved productivity.
The Australian Government Department of the Environment and Energy has developed ways for businesses to estimate emission reductions. For information about these methods, visit www.environment.gov.au/emissions-reduction-fund.
The Clean Energy Regulator oversees the ERF, runs auctions, manages contracts, and monitors compliance with the safeguard mechanism. For information on how to participate in the ERF, visit www.cleanenergyregulator.gov.au/ERF.
Other examples of government grants: ​​Green building fund, Clean Technology Fund, DECC, NSW Grants, DIIRD, VIC Grants, Funding for local councils CEEP, Sustainability Victoria funding, Low carbon Australia fund (loan to help implement energy efficiency projects).
Source: https://www.environment.gov.au/climate-change/government/emissions-reduction-fund/publications/what-it-means-for-you