APAC - New, Replacement or Retrofit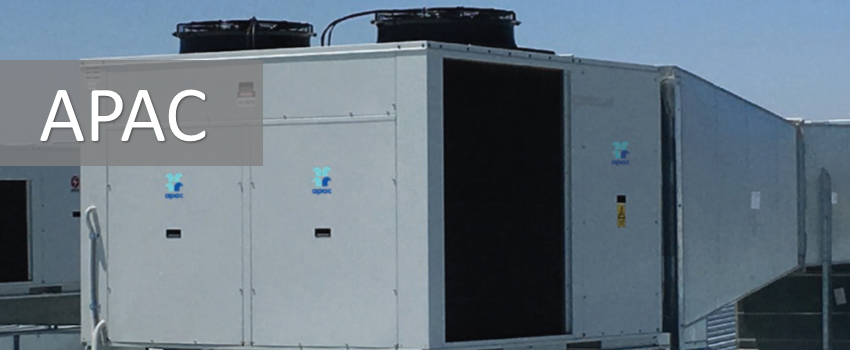 For years, apac air conditioning has saved Australians from the
melting heat of summer, not to mention all our other climate
extremes.
Now apac is back, bigger and better than ever. Now with
backing from Rinnai, Japan's global leader in Hot Water,
Heating and Cooling, you can rest assured apac will measure
up when the heat is on.
Featuring next generation efficiency and super reliability,
the latest Australian designed and built apac units are not
only ready for new developments, they're also the perfect
replacement for old apac units that are approaching the end of
their operating life.
Engineered with the consultant, building owner, facilities
manager and installer in mind, these Australian designed and
built systems have one of the lowest cost of ownership in its
class.

AVAILABLE NOW!!
New, Replacement or Retrofit APAC units now available
Manufactured to old model or custom specifications
Both

Horizontal & Vertical discharge configurations
- APAC Rooftop Package Units
- APAC Split Ducted Units
CONTACT US NOW Brisbane (07) 3219 1817, Sydney (02) 91 88 68 77, Melbourne (03) 70 01 14 44
or email our friendly sales team sales@lawsonair.com.au


Flexibility

Low noise

Unmatched list of factory
fitted options to make
the product suitable for
most any commercial or
industrial projects.

Speed controlled fans




that slow down during




lower ambient




temperatures for less




noise.

Reduced energy costs

Low installed cost

Best in class efficiency across
the entire product range for
lower power bills.

A perfect match to existing




apac unit size, footprint,




ductwork and mains power




and controls without costly




modifications.

A perfect upgrade that fits perfectly into the APAC footprint
Our commercial and industrial range of products from 12 to 95kW capacity is a near-perfect fit for most replacement units in capacity, footprint, ductwork, controls and power supply connections. Commercial & government buildings, hotels, warehouses, office blocks, mine site accommodation, medical centres, hospitals, HVAC air conditioning, heating and cooling systems.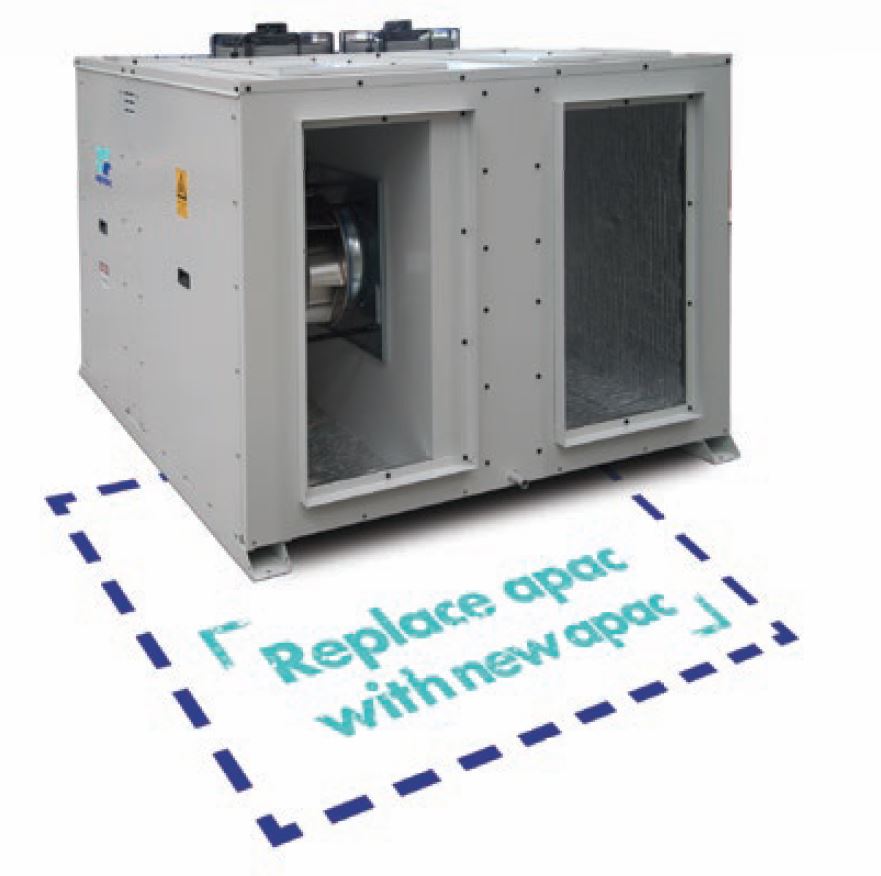 • Low installation costs. A perfect match to the apac unit size, footprint, ductwork, mains power and controls avoiding costly modifications.
• Low noise. Fans slow down during low ambient for less noise, with up to 20% less sound.
• Low cost of ownership. High efficiency direct drive fans ensure low maintenance costs.
• Reduced energy costs. High efficiency ratings with up to 31% energy savings compared to legacy apac equivalent products.
• Australian-made. Engineered and built to operate in Australia's toughest conditions.



New and Superceded (or old models) apac conversion tables
apac Model Numbers

New SA Series

AE Series

AD &AA Series

S Series

P012AHR9SA

S11HP/BH

P014AHR9AD

S14HP/BH

P015AHR9SA

P015AHR9AE

P016AHR9AA

S16HP/BH

P018AHR9SA

P018AHR9AE

P017AHR9AA

S18HP/BH

P019AHR9AA

S20HP/BH
S21HP/BH

P020AHR9SA

P021AHR9AE

P023AHR9SA

P023AHR9AA

P024AHR9SA

P024AHR9AE

S24HP/BH

P026AHR9AA

S25HP/BH

P028AHR9SA

P030AHR9SA

P030AHR9AE

P030AHR9AA

P033AHR9SA

P032AHR9AA

S32HP/BH

P035AHR9SA

P036AHR9AE

P036AHR9AD

S35HP/BH

P038AHR9SA

S37HP/BH

P040AHR9SA

P040AHR9AE

P043AHR9SA

P042AHR9AD

P045AHR9SA

P046AHR9AE

P046AHR9AD

S45HP/BH

P048AHR9SA

S46HP/BH

S51HP/BH

P055AHR9SA

P055AHR9AE

P055AHR9AD

S56HP/BH

P065AHR9SA

P064AHR9AD

P064AHR9AD

S65HP/BH

P075AHR9SA

P075AHR9AD

P075AHR9AD

S80HP/BH

P085AHR9SA

P085AHR9AD

P085AHR9AD

P095AHR9SA

P096AHR9AD

P096AHR9AD

S95HP/BH
apac Model Numbers

New SA Series

AE Series

AD &AA Series

S Series

S012ILR

S11HP/EL

S014IHR9AD

S14HP/ EL

S015ILR

S015IHR9AE

S016IHR9AA

S16HP/EL

S018ILR

S018IHR9AE

S017IHR9AA

S18HP/ EL

S019IHR9AA

S20HP/EL

S020ILR

S021IHR9AE

S21HP/EL

S023ILR

S023IHR9AA

S22HP/EL

S024ILR

S024IHR9AE

S24HP/EL

S028ILR

S026IHR9AA

S25HP/EL

S28HP/EL

S030ILR

S030IHR9AE

S030IHR9AA

S30HP/EL

S033ILR

S032IHR9AA

S33HP/EL

S035ILR

S036IHR9AE

S036IHR9AD

S35HP/EL

S38HP/EL

S040ILR

S040IHR9AE

S40HP/EL

S042IHR9AD

S045ILR

S046IHR9AE

S046IHR9AD

S45HP/EL

S46HP/EL

S51HP/EL

S055IHR

S055IHR9AE

S055IHR9AD

S56HP/EL

S065IHR

S064IHR9AD

S064IHR9AD

S65HP/EL

S075IHR

S075IHR9AD

S075IHR9AD

S80HP/EL

S085IHR

S085IHR9AD

S085IHR9AD

S095IHR

S096IHR9AD

S096IHR9AD

S95HP/EL
apac Model Numbers

New SA Series

AE Series

P012AVR9SA

S12HP/BV

P015AVR9SA

S15HP/BV

P018AVR9SA

S17HP/BV

P020AVR9SA

S20HP/BV

P023AVR9SA

P024AVR9SA

S25HP/BV

P030AVR9SA

S30HP/BV

P035AVR9SA

S35HP/BV

P040AVR9SA

P045AVR9SA

S45HP/BV

apac Model Numbers

New SA Series

AE Series

S012IVR

S12CEV or HP/EV

S015IVR

S15CEV or HP/EV

S018IVR

S17CEV or HP/EV

S020IVR

S20CEV or HP/EV

S023IVR

S024IVR

S25CEV or HP/EV

S030IVR

S30CEV or HP/EV

S035IVR

S35CEV or HP/EV

S040IVR

S045IVR

S45CEV or HP/EV
CONTACT US NOW Brisbane (07) 3219 1817, Sydney (02) 91 88 68 77, Melbourne (03) 70 01 14 44
or email our friendly sales team sales@lawsonair.com.au