iZone Smart Ducted Air Conditioner Controller
TURNS ANY DUCTED AIR CONDITIONER INTO A SMART HOME
| | | | | | | |
| --- | --- | --- | --- | --- | --- | --- |
| | | | | | | |
| AIR CONDITIONING | | LIGHTING | | IRRIGATION | | POWER |
| | | | | |
| --- | --- | --- | --- | --- |
| | | | | |
| MONITORING | | SECURITY | | ENTERNTEIMENT |
Control everything in your home from your smart device
The iZone climate control system is highly affordable, efficient and effective. It's far superior to most other systems and as Smart Alec says, "it's about outsmarting not outspending."
iZone technology makes life better for you. How cool is that? It wirelessly adjusts temperature, air distribution and airflow to any room in your house from anywhere, anytime.

Control your home's air conditioning, lighting, irrigation, garage door, roller blinds and appliances with iZone precision, even when you're out.

Monitor your home and make it as secure, energy efficient, waterwise and economical as it can be.

Integrate all your favourite lifestyle and entertainment apps – Google Home, Amazon Alexa, Apple Home Kit (Siri), IFTTT, Sonos*, Samsung SmartThings, and Spotify* – for a seamless, voice-controlled smart home experience your whole family can enjoy.

Your iZone Smart Air Conditioning and Smart Home system can do it all.

Wirelessly. Seamlessly. Intuitively. It will even pay for itself before you know it.
​
| | | | | | | | | | | |
| --- | --- | --- | --- | --- | --- | --- | --- | --- | --- | --- |
| | | | | | | | | | | |
| | | FAN PEED | | SCHEDULES | | SLEEP TIMER | | AIR FLOW | | ZONES |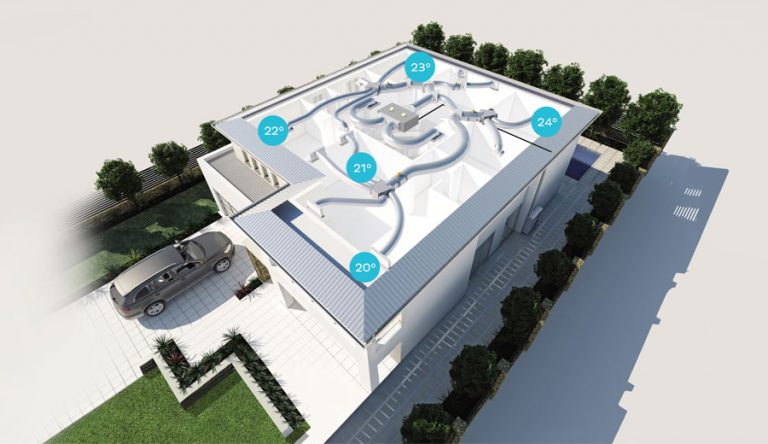 ✔​
In duct supply air sensor for improved efficiency and temp control (CDTS)
✔​
Roaming sensor to ensure every zone is maintained at the exact temperature automatically
✔
​
Temperature sensor in every touchscreen controller
✔​
Air Quality Monitoring (Nexus + only)
✔
​
Zone on/off button on every sensor
✔​
iSense Occupancy sensor with backlit display and full in room temp control
✔
​
Fan auto control to maximise comfort and minimise energy consumption
✔​
All sensors can be calibrated for precision control
✔
​
Apple Home Kit compatible*
✔​
Google Home compatible
✔​
Amazon Alexa compatible
✔
​
Samsung SmartThings compatible
*only compatible with systems with the new open connection bridge (ask your installer prior to purchase)
---