Government Rebate - 4 Star Energy Rating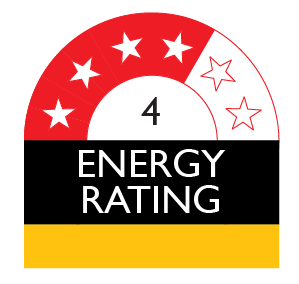 SORRY.......THIS OFFER ENDED - JUN 2018
Lowering energy usage provides customers greater control over their energy costs. Buying appliances that are energy efficient can cost more upfront, but will lead to long term saving.
To help Queensland households improve their energy efficiency, $20 million has been committed for rebates on approved energy efficient appliances under the Affordable Energy Plan.
Customers can save up to $50 a year by using an energy efficient refrigerator or washing machine. An energy efficient air conditioner could save up to $100 a year.
Rebates available
Rebates will apply to purchases on or after 1 January 2018 for the following household appliances:
$200 for a 4 star or higher energy rated washing machine
$250 for a 4 star or higher energy rated refrigerator
$300 for a 4 star or higher energy rated air conditioner.
Limited to 1 rebate application per household.
The scheme will end when the funding is exhausted, so payment of a rebate is not guaranteed.
Eligibility criteria
It's important to determine the best appliance for your needs.
The following information regarding energy efficient appliance rebate eligibility is provided as a guide only and does not entitle you to a rebate. We will check your eligibility for a rebate as part of the application process. Please read the rebate terms and conditions (PDF) to determine your eligibility before applying.
To be eligible for a rebate, the appliance must:
have a minimum 4 star energy rating
be new and purchased on or after 1 January 2018 (you must provide a copy of the tax invoice or receipt for the purchase of the approved appliance showing you have paid in full)
be for the purposes of domestic/residential use in a Queensland residence.
For air conditioners, the minimum 4 star energy rating relates to cooling. Free-standing, portable air conditioners and evaporative coolers do not qualify for the rebate.
Read the full list of eligible 4 star or higher appliances:
Applying for the rebate
Applications for the rebate are now open.