CASH BACK OFFERS



C

hoose Quality

Air with a Panasonic Air Conditioner
Enjoy the cold months in a toasty warm home with a Panasonic air conditioner. Receive a Panasonic eftpos card worth up to $200* when you buy a selected model before 30/06/2019. Please retain your original tax invoice/purchase receipt showing a zero balance for verification purposes.

Claims close on 21/08/2019.



Bonus eftpos Gift Card
Mitsubishi Electric is pleased to announce the launch of our 2019 Winter Gift Card Redemption Offer. This offer entitles our consumers who purchase any selected split or ducted unit the opportunity to redeem a bonus EFTPOS Gift card. All claims must be submitted by 31/8/2019.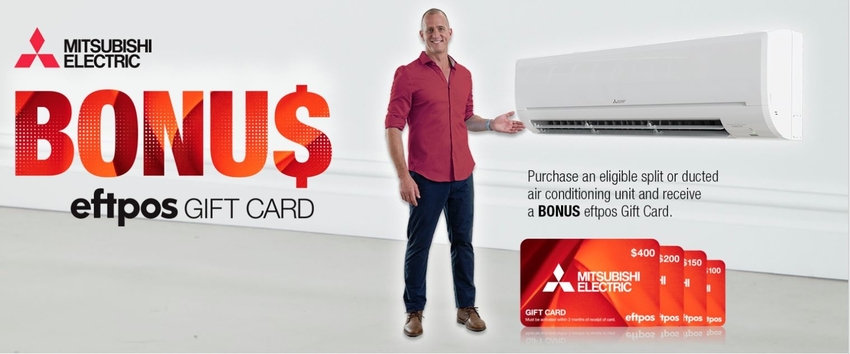 2019 Fujitsu Free Money Back Promotion
Right now when you buy a Fujitsu Air Conditioner you'll receive a Pre-paid Visa card or eGift card worth up to $400. Plus, go into the draw to 'Win 1 of 5 Family Holidays' valued at $12,000.
If you purchase a Fujitsu Cooling Only or Reverse Cycle Inverter Split System, Reverse Cycle Inverter Multi Split System or Reverse Cycle Ducted System during the promotional purchase period (9:00am AEDST Monday 1st April to 4:59pm AEST Monday 1st July 2019), lodge your claim by 4:59pm AEST Friday 30th August 2019.


CONTACT US NOW

(07) 3219 1817

or email our friendly sales team

sales@lawsonair.com.au